The Santa Barbara Half presented by HOKA & SB Independent 5K provides a number of opportunities for competitive runners to compete and be eligible for awards. 
Overall & Age Group Awards
Awards in both the Half Marathon & the 5K are provided in three categories: Men, Women and Non-Binary+.
⏱ Awards will be at 9:00am at the band stage on Yanonali & Helena.
Half Marathon presented by HOKA
Overall Winners
The top 3 overall in each award category (Men, Women & Non-Binary+)  will receive a custom engraved red-roof tile, thanks to Action Roofing and Tri-Valley Trophies, representing one of Santa Barbara's iconic architectural features. There's even a Red Tile Walking Tour you can take!
Age Group
Age Group winner's (1st place, unless overall event winners are in age group) will also receive an award plaque provided in the following increments in each award category (Men, Women & Non-Binary+): 0-14, 15-19, 20-29, 30-39, 40-49, 50-59, 60-69, 70-79, 80-89 & 90+
SB Independent 5K
The top 3 overall in each award category will receive award plaques.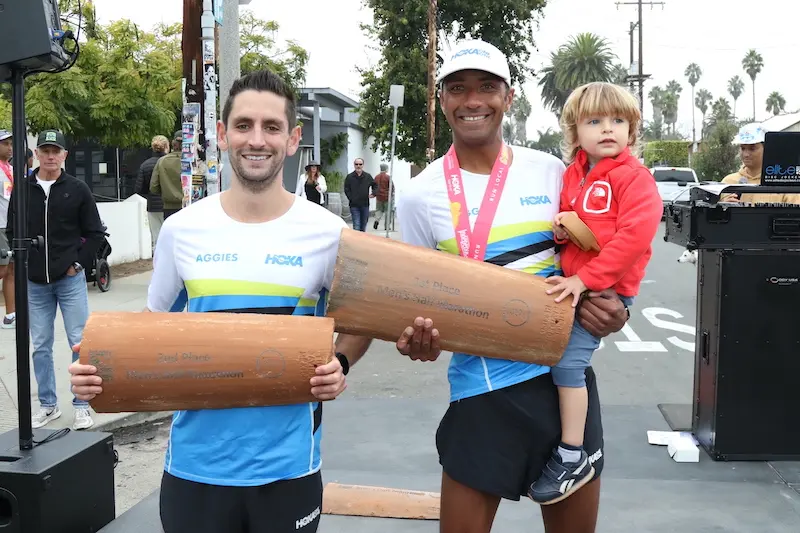 The Half Marathon is a part of the Santa Barbara Running Association Grand Prix.
The 5K is a part of the Junior Grand Prix. There is no cost for Junior Grand Prix participants. Please inquire with the SBRA on how to join the Junior GP.
Elite Athletes – Half Marathon
We offer complimentary entries to athletes with verified personal bests in the following categories:
Men: 1:10:00 or faster
Women: 1:20:00 or faster
Non-Binary+: no time standards in 2022; we are collecting data and working with associated groups to define this in the future. Email [email protected] with recent verified results. 
We offer 60% off entries to athletes with personal bests in the following categories:
Men: 1:16:30 or faster
Women: 1:27:30 or faster
For all inquiries email [email protected]